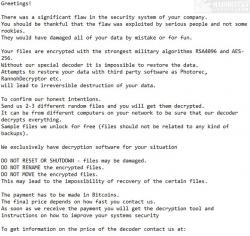 LockerGoga was first identified in early 2019 and had successful large-scale attacks against US and Norwegian companies. It has infected numerous people, companies, and municipalities worldwide with a monetary tally of over $104 Million.
On an infected system, the LockerGoga appends files with a '.locked' extension. With the release of this tool, You can now recover your data for free. In the thumbnail, you will see an example of a ransom note.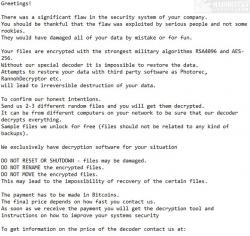 Below you will find step-by-step instructions for using the decryptor in both single-computer and network modes.
Once downloaded and run, select "Scan Entire System" if you want to search for all encrypted files or add the path to the encrypted files. It is strongly recommended that you also maintain the "Backup files" option enabled. Then press "Start now."
Users may also check the "Replace previously decrypted files" option under "advanced options," so the tool will replace already decrypted files. At the end of this step, your files should have been decrypted.

Silent execution (via cmdline)
The tool also provides the possibility of running silently via a command line. You might want to use this feature if you need to automate the tool's deployment inside a large network.
-help – will provide information on how to run the tool silently (this information will
be written in the log file, not on the console)
start – this argument allows the tool to run silently (no GUI)
-scan-path – this argument specifies the path containing encrypted files
-full-scan – will enable the Scan entire system option (ignoring -scan-path
argument)
-disable-backup – will disable the file Backup option
-replace-existing – will enable the Replace previously decrypted files option

Examples:
BDLockerGogaDecryptTool.exe start -scan-path:C:\ -> the tool will start with no GUI
and scan C:\
BDLockerGogaDecryptTool.exe start -full-scan -> the tool will start with no GUI and
scan entire system
BDLockerGogaDecryptTool.exe start -full-scan -replace-existing -> the tool will scan
the entire system and overwrite present clean files

Similar:
Which Anti-Malware App Is Best and Can It Run Alongside My Antivirus
How to Tell the Difference Between a Virus and a False Positive
How to Manage Windows Defender Antivirus Found Threats
What to Do When Your Norton or McAfee Antivirus Expire